Techniques for Dealing With Imposter Syndrome - Part 2
I'm on a bit of a mission to tackle imposter syndrome in the PR and marketing industry. Why? Partly because I suffer from it, but also because it's so harmful and restricting to our industry.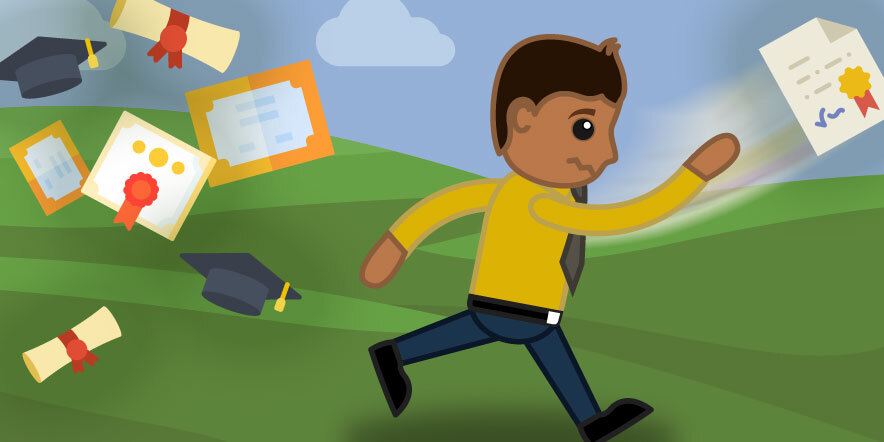 imposter syndrome is STILL intrinsically linked with comparing yourself to others. However, it's slightly more complicatedIn my last article, I explored techniques for overcoming the feeling of not being as good as others. But there's another sort of imposter syndrome: the one where we place completely unreasonable expectations on ourselves.
The challenge is that this sort of imposter syndrome is STILL intrinsically linked with comparing yourself to others. However, it's slightly more complicated, because it's also bound up with point scoring and gaining awards, qualifications and other external signifiers of success and achievement.
Don't get me wrong, there's no problem in wanting to become qualified or win things. They're great things to do.
The issue comes when you've set the benchmark too high and you get to a point where even having a degree in astrophysics isn't enough to prove to you (and the rest of the world) that you're good enough.
Life lessons from the pub
I've mostly overcome this although, as someone who works in learning and development, I am benignly addicted to learning. But this stuff comes back to haunt you in subtle ways. I told myself, early on in school, that coming first or second is acceptable and everything else is worthless. I didn't know I thought this for ages. Once I discovered it, I was able to see it for what it was - not terribly useful in my life.
Yet, last year I started regularly doing a pub quiz. It's a bit of fun but for someone who's got a deep sense of "first and second good - anything else bad" it has been hard going. My quiz team-mates laugh when we win the wooden spoon and celebrate when we win a bottle of wine. But I sit and fume and plot, to the point where I suggested that we find another pub "more suited to our skills" rather than come in at mid-table mediocrity.
When everyone took the proverbial out of my competitive nature, I was able to see where this had come from and see that I would rather withdraw from the competition than not win. OUCH.
Pub quizzes are one thing, but what about more serious matters like your career or relationships? Unreasonable expectations exist there too, so here's four tried and tested (I should know) tips to pass on.
1. Understand your imposter syndrome triggers
Firstly, work out what phrases used by others can trigger the feeling you are just not good enough. I'm thinking of these:
"But surely..."
"But everyone knows..."
"But isn't it obvious that..."
"I don't agree..."
"Why did you do xyz?"
"Can you explain these results?"
the imposter syndrome sufferer will assume they are under attackThese are pretty aggressive opening gambits if you have imposter syndrome. Even if they're not meant to be. It may be perfectly reasonable to ask for an explanation of the results, but the imposter syndrome sufferer will assume they are under attack because the other party doesn't think they're up to the job.
The chances are, other people aren't trying to catch you out. Park your emotionalreaction for a second, and try to rationally explain your point of view, thought process or results. It will likely lead to interesting debate, rather than a public put-down.
2. Design your own feedback
We all need some external feedback if we want to develop our skills. But most people are shockingly bad at giving it constructively.
So it's worth taking it into your own hands by deciding what type of feedback you need and who should give it to you. Choose those people wisely. Have a chatto them before a new project starts, and tell them which skills you want to develop. Then ask them during and after the project for their thoughts.
I recall some training years ago for a big public affairs agency, where I was told acouple of days beforehand that there would be "observers" in the room. I could have gone to pieces. Truth be told, I did go to pieces for 24 hours as I contemplated re-writing my course content. Then I thought NO! The session had to be right for the delegates, not the observers. So instead, I asked myself how the observers' feedback could help me to improve future courses - and gave them a list of six questions, the answers to which would be useful to me. Instead of losing my head, I took control and designed the feedback that I wanted.
3. Avoid deflecting praise
Think about the last time you received a compliment. What was your response? I'd hazard a guess at one of the following:
"If I can do it, anyone can!"
"I had help."
"I was lucky."
"It was nothing really."
"It's just because they like/know me."
"It was just good timing."
What you're doing there is deflecting praise and diminishing your own achievements.
Apply a bit of rationality: yes, there is always a proportion of achievement that you can put down to luck, other people or whatever. But ask yourself, what proportion is down to me? Recognise those achievements and internalise them.
4. Aim for progress not perfection
Many people with this sort of imposter syndrome are serial studiers. No qualification is ever enough because no amount of external validation is ever enough.
If you have a full-time job, are doing an MBA on the side, are learning three additional languages, the violin and how to make sourdough bread - then, why? If those are just fun things to pass the time, that's one thing. But if you are taking on all those extra courses because of your own perceived inadequacy or fear, that's quite another. Try to spend some time working out if they will actuallyhelp you to combat those feelings.
I'd say they probably won't.
And even if you are learning new things, be wary of putting too much pressure on yourself to learn too quickly. You won't be fluent in Spanish in a week. Or write a best-selling novel within a month of finishing your creative writing course. But you will be making headway.
Cut yourself a bit of slack and focus on progress, not perfection.
Coming up: can you overcome imposter syndrome and still be a nice person?
People trying to overcome imposter syndrome are often worried about becoming insufferably arrogant as they gain confidence. They have no need to be. It's entirely possible to be free of imposter syndrome and still be a nice person. Honestly. I'll cover it next time.
In the meantime, let me know what you think. Have you used any of these techniques? Have they helped? Do you have any other hints or tips for people who put impossibly high standards on themselves?
If you enjoyed this piece, then have a read of my previous articles about imposter syndrome:
How to find the source of your imposter syndrome
Training Courses for PR and Comms Agencies